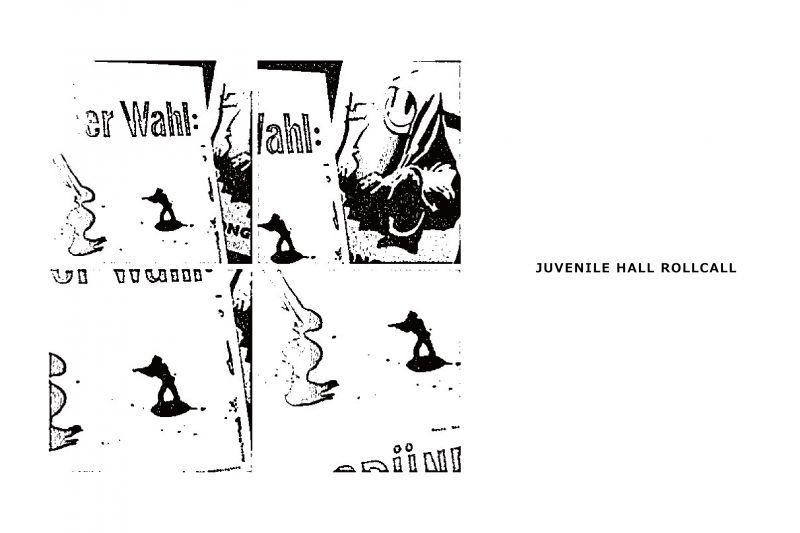 ・ JUVENILE HALL ROLLCALL _ ジュヴェナイル ホール ロールコール
Designer / IRIE Tai _ イリエ・タイ 
" About the commodity we buy, every product has a clear purpose of use and there is no odd thing.
It is produced by the will of designing something 100% consistent. Any mistakes or ambiguity are unacceptable.
But what I make is tolerant about ambiguity and can be interpreted in many ways.
Departing from the author's conscious, it takes on some meanings.
In fact, it is perfect opposite, as my creation is how to take in something vague. "
  " skmt 2 " by Ryuichi Sakamaoto / Shigeo Goto 
僕たちが買う商品には、これは何をするんだかわからない変なところが含まれている商品なんてない。
100%矛盾なく、設計しようという意志によりつくられたもの。間違いは許さない、曖昧なことを許さないというものたちばかり。
でも僕なんかがつくるものは、曖昧なことを許しちゃうし、多義的なもの。
作者の意識と離れた無意識に何か意味をもってくる。
いやむしろ、曖昧なところをいかに取り込むかという作業をしているわけだから。正反対。
  坂本 龍一 / 後藤 繁雄 「 skmt 2 」
Garage EDEN Shop Master であり Thee OLD CIRCUS デザイナー ウラノ が "この世界において" 「1番」の "デザイナー" は "彼" だと言い切る深淵の世界の奥に存在する稀有なブランド。
その圧倒的に個性的でかつ独創性の強いアイテムたちは着用者に対しあらゆる意味においての多くの難解な疑問点と問題を投げかけ、常に「WHY?」と「Yet」を突き付けると我々は考える。ただしそれはまた反面的な意味において「洋服とはたかだか洋服である」という意味も併せ持つと僕らは解釈する。難解さの先にあるのは楽天的なハッピー(ただしそれは曇りのない晴天とは限らない)をもたらしてくれることだろう。言葉だけでは示し表すことの出来ない感情を揺さぶるアイテムたちは身につけることで単に洋服を楽しむという原点的な喜びを教えもたらしてくれる。このブランドを手にすることにおいて、たったひとつの注意点がある。それはこのブランドには良き意味でも負の意味でも強い(それは自分自身でも気づかないほど静かに強い)中毒性があるということ。このブランドを創設から知る僕(ウラノ)はそのことを知っている。
錚々たるブランドでの遍歴を重ねた上でイリエ氏は独自の道と物作りを目指しこのブランドを持ち歩き始めた。彼の下敷きにあるものの深さ(まさに深淵)を推し量ることはとても難しい。故にまたこのブランドに惹かれるのである。固定されている概念があるのであれば一度その色眼鏡を意図的に外してこの商品たちを見て感じることはとても意味のある有意義なこととなるでしょう。